TDL, in collaboration with the Digital Enlightenment Forum, organised 'Towards Trustworthy Digital Identity in Europe' on the afternoon of 3 July from 13:30 to 16:00. The two and a half hour event, hosted by the Representation of the State of Hessen to the EU, was preceded by a light lunch and networking.
After many years of research, demonstration and limited implementations, digital identification and authentication are still not user-friendly, privacy respecting and broadly usable, except in some small states, or industry sectors. Even in banking, where good authentication is crucial many different systems are around and is not symmetrical: the client authenticates to the bank and not vice versa. The eIDAS regulation allows cooperation between identification systems of governments for their own services but does not easily provide authentication for banking, shopping, or proving one's age or education, all of which still needs different methods and credentials.
Our workshop brought together people to discuss the steps needed on top of eIDAS, to make identification and authentication on the Internet easy and trustworthy. Starting with a keynote presentation on eIDAS and its foreseen future developments from Andrea Servida, the workshop continued with presentations of private systems existing or under development that are privacy-respecting and easy to use and which can build on existing government or otherwise-backed identity data. A report on attribute-based systems, self-sovereign identity and blockchain-based identity was then complemented by a presentation on the problems of governments to make progress to develop citizen-friendly eID systems.
Here are the presentations given at the event:
Andrea Servida, Head of Unit, DG CNECT/eGovernment and Trust*: Let's go eIDAS: building trust online
Elly Plooij – van Gorsel, Independent chairman of the Strategic Council for the Dutch eID Trust Framework: The Dutch Trust Framework for electronic identification
Professor Bart Jacobs, Radboud University Nijmegen: Attribute-based authentication and signing with IRMA
Ghassan Karame, Head of Security Research, NEC Laboratories Europe GmbH: Digital Identity with Blockchain 
Stephan Krenn, Scientist, Austrian Institute of Technology: Privacy-preserving self-sovereign identity management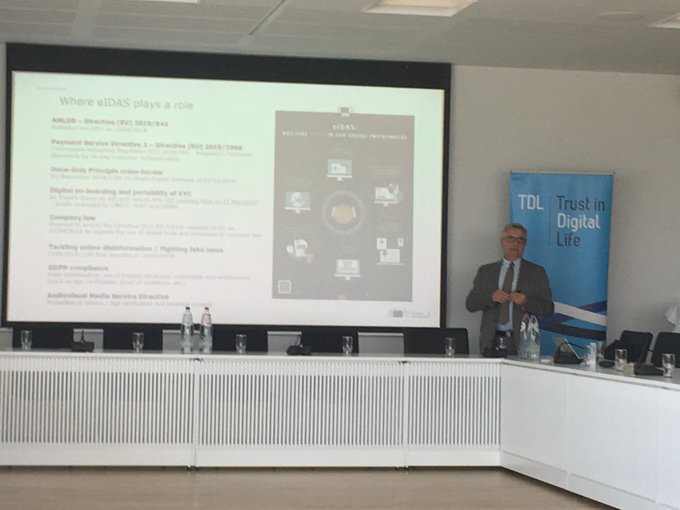 *Andrea is now Head of Knowledge Management & Innovative System in DG CNECT. This was Andrea's last eIDAS presentation. Thank you so much for your immense contribution!